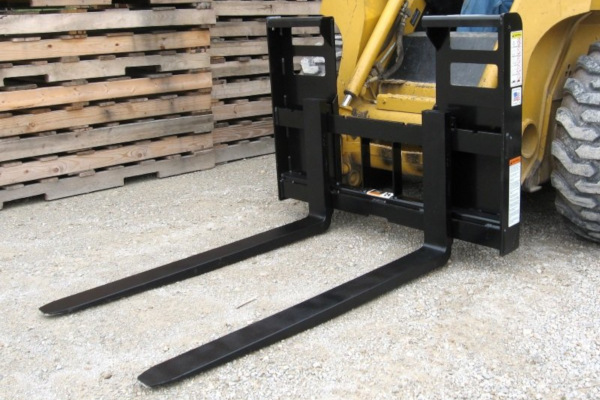 Double tap to zoom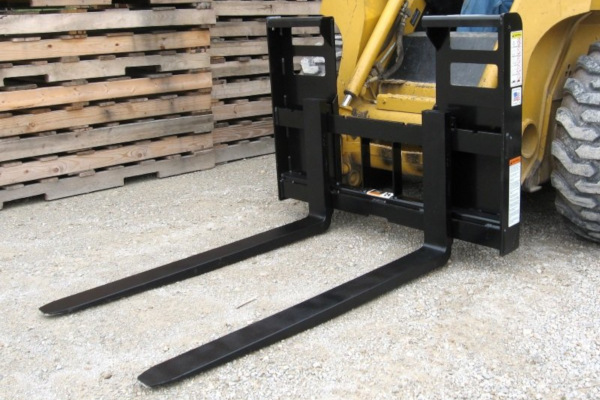 Features
Skid steer pallet forks (4,000 lbs.) are offered with a one piece backstop or a step through design for easy cab access and excellent visibility.
Skid steer models mount with the "Universal" quick-attach mounting system.
Premium forks include spring loaded latches for easy adjustment spacing.
Models available with integrated brackets for skid steers, John Deere 400/500/600/700 series loaders, and loaders with Euro/Global attaching method.
Pallet forks for John Deere H480 loader with Global Series II tool carrier.
Optional interfacing quick-attach brackets are available for the model PF-448 for most popular loader models.
Machined rails allow ease of fork spacing adjustment.
Specs
Model
JDPF-H48048
Equipment Used On
JD Front Loader
Capacity (lbs/kg)
7,500 / 3,402
Frame Construction
Welded Steel
Mounting
Global Series II
Fork Spacing (in/mm)
6-56 / 152-1422
Fork Carrier
Beveled Notched Rail
Forks
1.75" x 4.75"
Fork Length (in/mm)
48 / 1219
Weight (lbs/kg)
785 / 356
Product No.
834130
*Optional interfacing quick attach brackets available for most popular loaders.