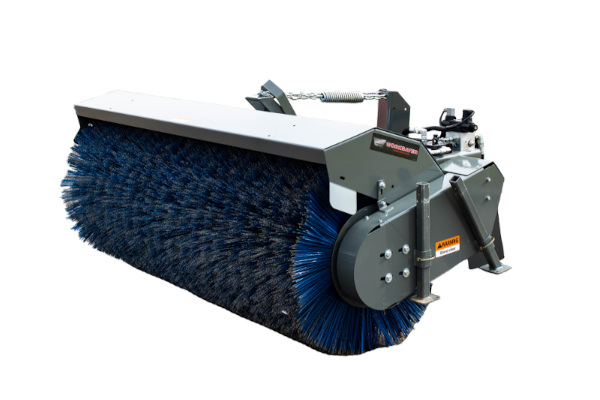 Double tap to zoom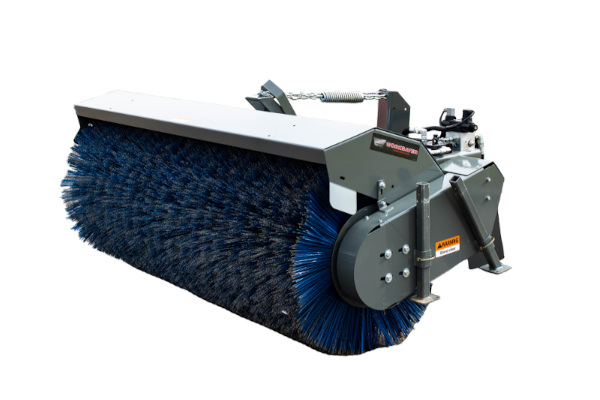 Features
Designed for use by contractors, municipalities, institutions, and farmers.
Hydraulically driven front loader models in 5-ft., 6-ft., and 7-ft. widths with 32" diameter brushes.
An independent hydraulic system powered by the tractor PTO, 10-20 GPM hydraulic flow may be required depending on tractor model.
Universal front loader mount to accept our interfacing mounting brackets; available for most loader quick attach system.
Models designed for John Deere 400/500 series loaders with hook & pin quick attach.
Variable flow control valve for optimum broom speed.
32 inch diameter convoluted brushes available in Poly (P) or both Poly and Wire (PW).
Remove dirt, sand, gravel and trash from construction entrances, parking lots, bridges, driveways and sidewalks.
Remove thatch and prepare turf for the growing season.
Clean snow or leaves from streets, driveways, and building entrances.
Excellent for general clean up before sealing or repairing pavement.
Broom angles up to 30° right or left. Optional manual or hydraulic angle adjustment kits available.
Height adjustment chains maintain an even operating position.
Parking stands included as standard equipment.
Optional electric solenoid hydraulic angle kit also offered.
Optional gauge wheel kits allow for setting broom height to match the job conditions.
Specs
John Deere 400/500 Series Front Loader Mounted Rotary Broom Specifications (shipped less hoses)
Model
JDMB-326PW
Overall Width (in/cm)
81 / 206
Brush Diameter (in/cm)
32 / 81
Sweeping Width (in/cm)
72 / 183
Width @ 30° Angle (in/cm)
64 / 163
Mounting System
JD 400/500 Hook & Pin
Brush Material
Poly / Wire
Hydraulic Motor Rating
16 GPM
Oil Flow Requirement (gpm/lpm)
12-30 / 45-114
Dirt Deflector
Optional
Weight (lbs/kg)
TBA
Product No.
610650