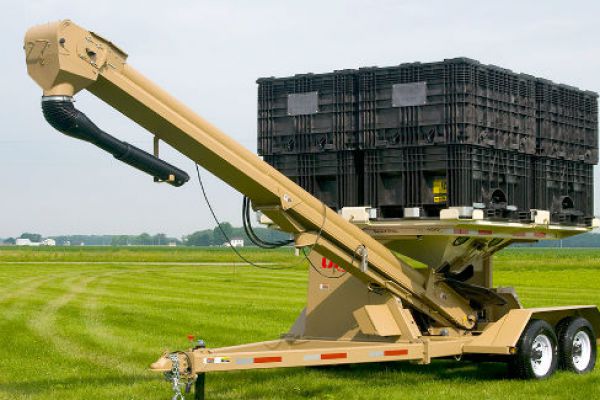 Double tap to zoom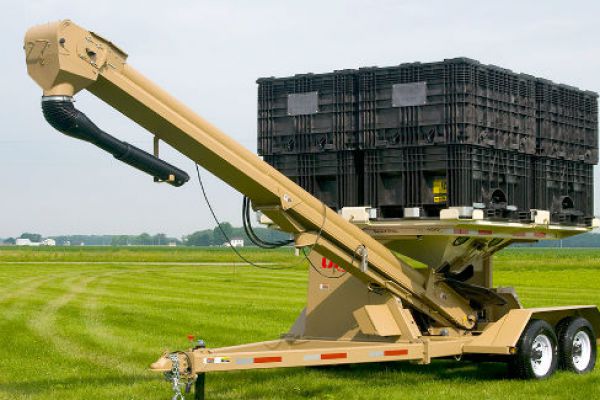 Features
Exclusive design not only fills planters and drills, but can be positioned 90 degrees to transfer seed from one container to another
Model 410XL features features a 21' long conveyor for reaching the tallest planters, spring lift-assist and an exclusive belt design with offset rows of cupped cleats for gently carrying seed at approximately 30 bushels per minute
Models 400 and 200 feature an 18' long conveyor with cupped and cleated belt

Available with a 8" belt inside of an 8" tube for up to 12 bushels per minute unloading on model 400 and 200, or a 12" belt inside an 8" tube for unloading up to 25 bushels per minute on model 400

The conveyor base features rollers that pivot a full 180 degrees and can be locked into position in 3/4" increments which translates to being able to stop every 10" at conveyor spout
Standard two-stage downspout reaches 34' on the model 410XL and 30' on models 400 and 200 for easily filling planters
Stainless-steel pivot track for long life and durability
Downspout features tool-free removal to efficiently use for filling between two other sources
Easy-opening 5" x 6" doors with rubber funnel regulate seed flow
Powered by Honda® 11 h.p. (340CC) gas engine with electric start
Top-mounted, 6-cubic-inch hydraulic motor pulls the belt forward, keeping it tight for the most efficient and gentlest seed movement
Handle the widest variety of seed including cotton, peanuts and wheat
Control panel with choke, ignition and throttle controls mounted on conveyor side permits convenient engine operation
Brush-type seal on conveyor inlet prevents seed from back feeding into the hopper for cleaner operation
Wired remote for easy on/off and raise/lower operator control and features a magnetic mount and cradle for easily storing on your Seed Pro box carrier
Hinged latches with easy-to-use locking system for securely fastening boxes
Easy reach design permits loading of boxes from left or right side on model 200, and rear or either side on model 400
Large funnel design allows quick, clean unloading. Locking covers are standard for storage ease
The undercarriage for the Seed Pro bulk box tender features rugged steel construction, rubber-cushioned suspension, tandem with electric brakes, highway-rated tires, lights, reflective striping and and transport chains
The Seed Pro is also available less undercarriage for mounting on trailers
Trademarked ivory and tan colors in  durable protective coating and silicone sealed seams for long life
Specs
Model
400
Overall Length (Conv. Forward)
with Bumper Hitch 

22'5"

with Gooseneck Hitch
23'6"
Hitch to Rear Bumper Length
18'9"
Transport Width
8'6"
Transport Height - with boxes
11'1"
Transport Height of conveyor
9'3"
Underframe Clearance
1'2"
Appx. Empty Weight (lbs.)
5,200
Conveyor - Maximum Unloading Height
12'8"
Conveyor -Reach at Max Height
11'3"
Conveyor -Minimum Unloading Height
9'3"
Conveyor - Reach at min. Unloading Height
13'3"
Reach with Standard 2-Stage Spout
30' - (12-Row 30" Planter)
Reach with Optional 3-Stage Spout
40' (16-Row 30" Planter)
Tongue Weight -Loaded (lbs.)
1,000
Hitch Type Std./Opt.
2-5/16" Ball/3" Pintle
Lighting Connector
7-pin flat
Due to continuing improvements in the design and manufacture of Unverferth products,
all specifications contained herein are subject to change without notice.