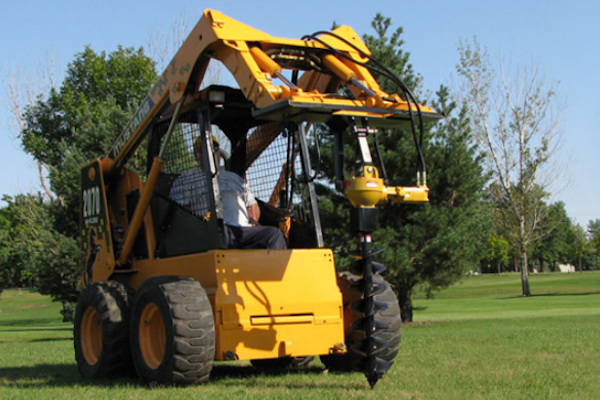 Double tap to zoom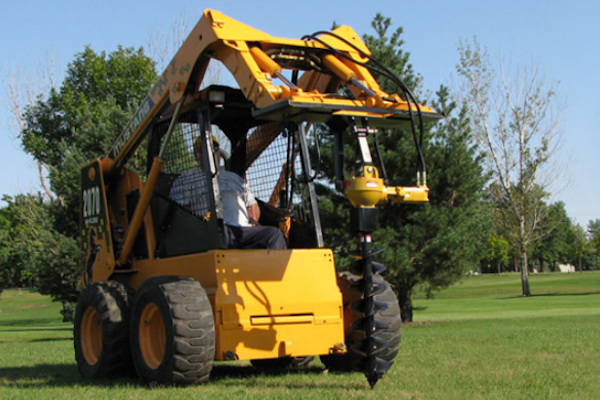 Features
FLEXIBILITY
Both models feature a variety of auger width options ranging from 4 to 14 inches (24 inches on the larger Model 1020).
SIMPLICITY
Our hydraulic post hole diggers offer easy assembly and mounting, as well as a variety of mounting options: boom/three-point mount, bolt-on bucket mount and skid loader fast-tach mount.
RELIABILITY
When it comes to reliability, both units have totally enclosed gearboxes with limited five-year warranties and hydraulic motors with limited one-year warranties. Plus, they have only a few moving parts to ensure a long machine life.
STANDARD AUGER OPTIONS
Shaver offers a wide variety of augers, including diameters from 4 to 30 inches. Our augers come in a standard length of 42 inches and are available in semi-double flight and double flight. Bolt-on auger extensions at 9 and 14 inches are available when added depth is needed.
Orchard Augers
Shaver orchard augers are especially designed for the needs of the nursery and orchard industry. They come in standard diameters of 16, 18, 24 and 30 inches with a standard length of 30 inches. The points on these augers are made of extremely hard austempered ductile iron for longer wear. Cutting teeth are made from forged steel and are bolted on so that they can be easily replaced when worn.
Rock Augers
Designed for extremely rugged conditions in loose rock, solid rock, dirt and clay, Shaver rock augers can be used on any Shaver post hole digger model (depending on size). They're available in diameters ranging from 4 1/2 to 30 inches. These augers feature replaceable carbide bullet teeth, a 3/4-inch-thick double-flight boring head and 3/8-inch-thick flighting with Rockwell 65 hardfacing.
Down Pressure Kit
Shaver's Down Pressure Kit gives you heavier-duty digging power by supplying an additional 500 lbs. of downward force on the unit. The unit easily attaches to both hydraulic and PTO diggers and is powered using the hydraulics from your skid steer loader or tractor, so it doesn't interfere with the regular operation of the digger. This option is ideal if you're working in compact soil, rocky areas or semi-frozen ground.
Specs
| | |
| --- | --- |
| Model | 510 |
| Bolt-On Bucket Mount | Optional |
| Boom/3-Point Mount | Optional |
| Skid Loader Fast-Tach Mount | Optional |
| Gearbox | 3.18:1 ratio |
| Bearings | Tapered roller, straddle mounted, one each side of each gear for rigidity, strength, compact design |
| Seals | Completely enclosed dual lip, high-quality spring loaded |
| Input Shaft | 1 1/4" diameter |
| Output Shaft | 2" solid |
| Hydraulic Motor | 5-10 gpm, 1,500-3,000 PSI, 1 1/4" output shaft, max. torque 700 ft. lbs. |
| Standard Augers | 42" length; 4", 6", 9", 12" and 14" semi-double flight or double flight |
| Auger Extensions | 9" and 14" |
| Orchard Augers | N/A |
| Auger Point | Austempered ductile iron replaceable on 6", 9" and 12" augers |
| Cutting Teeth | Bolted on, forged steel replaceable on 6", 9" and 12" augers |
| Shipping Weight | 113 lbs. |
| Down Pressure Kit | 500 lbs. additional pressure, 2"-diameter cylinder, 8" stroke, 2-way valve for use with boom/3-pt. mount |