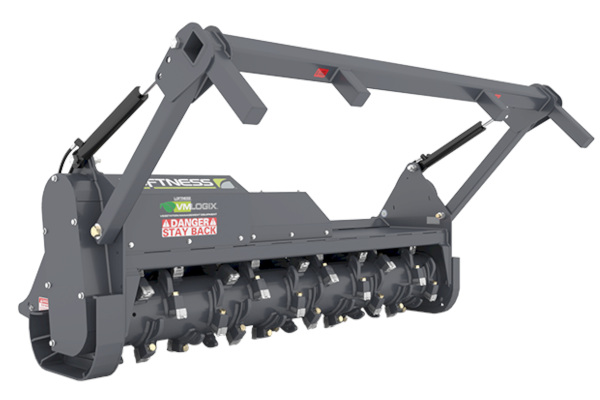 Double tap to zoom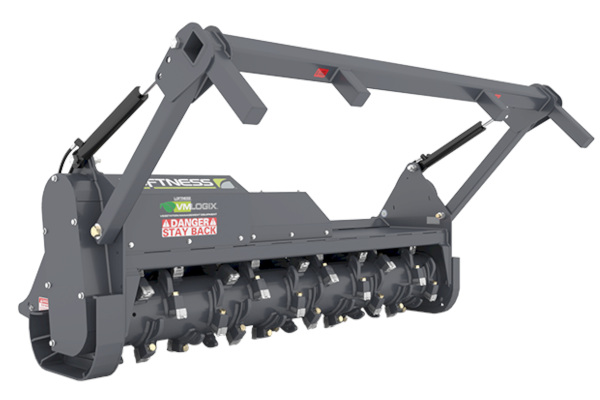 Features
DEPTH GAUGES
The Battle Ax rotor design uses built-in depth gauges to control cutting depth, like raker teeth on a chainsaw.
TWO-STAGE CUTTING CHAMBER
Two shear bars allow the Battle Ax to produce a finer mulch with fewer passes. The primary shear bar is adjustable for controlling particle sizes. The secondary shear bar is replaceable.
CONVENIENT TOOTH MOUNTING
The cutting teeth are mounted to the rotor with a single bolt. They can be easily reversed, replaced or removed on the jobsite using a common hex socket.
HIGH-PERFORMANCE TEETH OPTIONS
Choose from three cutting tooth options:
Quadco planer blades
Hard-surface Quadco blades
Standard carbide teeth
V-DRIVE VARIABLE-DISPLACEMENT PISTON MOTOR
The V-Drive uses a variable-displacement piston motor, which automatically shifts the rotor RPM from the highest speed to a lower range for increased torque, as needed. The result is less stalling and a shorter recovery time, helping operators to concentrate on the job instead of power settings and continuous head repositioning. This motor provides a more effective use of power as the head RPM increases under lighter loads, allowing operators to quickly slice through smaller or more flexible growth, as well as when back-dragging material on the ground. As larger trees, trunks and stumps are engaged, the motor increases the drive displacement to increase torque.
SYNCHRONOUS BELT DRIVE
The positive drive, cog belt and sprocket design maximizes efficiency and requires less maintenance than other drive types.
MACHINED ANTI-WRAP BEARING PROTECTOR
Rotor ends are machine turned to mate with close tolerance, machined anti-wrap rings, which minimize debris in the bearing chamber.
REPLACEABLE SKID SHOES
MANUAL OR HYDRAULIC PUSH BAR
A hydraulic or manually adjustable push bar is available. Constructed with integrated, welded claw hooks, the bar helps push falling trees and brush away from the power unit, while also allowing them to be properly positioned for efficient feeding into the head.
PERFORMANCE MONITORING
An integrated PSI gauge that monitors the hydraulic load is positioned for easy viewing from the cab. It helps keep the Battle Ax at the optimum hydraulic load for peak performance throughout an application.
CUSTOM HYDRAULIC VALVE
A high-pressure relief valve protects the Battle Ax from pressure spikes at the source. It also includes an anti-cavitation shutdown circuit.
PREMIUM STRENGTH STEEL HOUSING
All body components are laser cut from premium strength steel. Also, abrasion resistant steel is used in high-wear areas.
STEEL DEFLECTOR CHAINS
Running the entire length of the mulching attachment, steel deflector chains improve safety by reducing flying debris.
MAXIMUM VISIBILITY
The Battle Ax is designed for maximum visibility from the cab, which increases safety, productivity and efficiency.
17-INCH-DIAMETER ROTOR
1-INCH ROTOR TUBE WALL
2-1/2" PILOTED DOUBLE TAPER ROLLER BEARINGS
OPTIONAL BOLT-IN LINER
A bolt-in liner can be added for use in abrasive environments.
Specs
| | |
| --- | --- |
| Model | 71BH |
| Cutting Width | 71" (1.8 m) |
| Overall Width | 88.3" (2.2 m) |
| Number of Teeth | 36 |
| Weight (without mount) | 3,440 LBS (1,561 kg) |
| Crated Weight | 3,614 LBS (1,640 kg) |
| Horsepower Range | 50-150 |
| Variable-Displacement Piston Motor | Up to 6,000 PSI - 33-62.9 GPM |