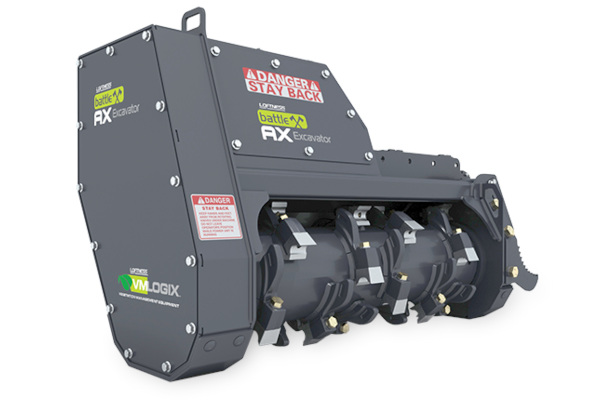 Double tap to zoom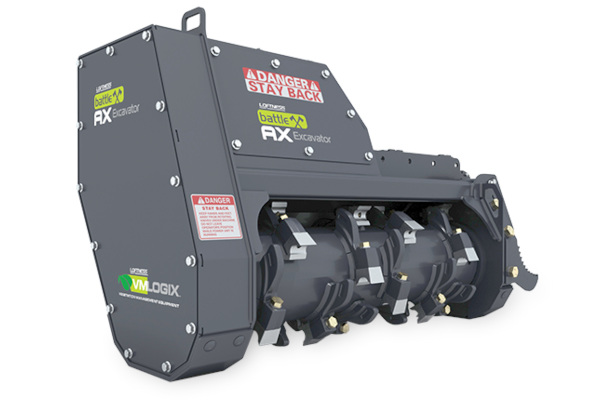 Features
DEPTH GAUGES
The Battle Ax rotor design uses built-in depth gauges to control cutting depth, like raker teeth on a chainsaw.
TWO-STAGE CUTTING CHAMBER
Two shear bars allow the Battle Ax to produce a finer mulch with fewer passes. The primary shear bar is adjustable for controlling particle sizes.
CONVENIENT TOOTH MOUNTING
The cutting teeth are mounted to the rotor with a single bolt. They can be easily reversed, replaced or removed on the jobsite using a common hex socket.
TRIPLE CARBIDE TEETH
The triple carbide teeth are engineered specifically for the most powerful excavators. They feature an overlapping cap design that helps prevent the tooth mounts from damage if the rotor is driven into rocks.
ADJUSTABLE-DISPLACEMENT PISTON MOTOR
The 50 Series Battle Ax features a 165cc adjustable displacement piston motor for excavators with hydraulic systems ranging from 35 to 105 gallons per minute and up to 6,000 PSI (100 to 350 hydraulic horsepower). This motor turns the rotor from 1,700 to 1,900 RPM and can be manually adjusted for fine-tuning performance on a variety of excavators.
SYNCHRONOUS BELT DRIVE
The positive drive, cog belt and sprocket design increases efficiency and requires less maintenance than other drive types.
MACHINED ANTI-WRAP BEARING PROTECTION
Rotor ends are machine turned to mate with close tolerance, machined anti-wrap rings, which minimize debris in the bearing chamber.
PREMIUM STRENGTH STEEL HOUSING
The Battle Ax is constructed of high-strength steel to withstand some of the toughest operating conditions.
STEEL DEFLECTOR CHAINS
Running the entire length of the mulching attachment, steel deflector chains improve safety by reducing flying debris.
OPTIONAL SPADE HOOK
The spade hook is a useful tool for positioning material to be mulched.
MULTIPLE MOUNTING OPTIONS
The Battle Ax comes standard with a flat plate mount. Direct, Quick Attach or pivoting mounts are optional.
21-INCH-DIAMETER ROTOR
3" PILOTED DOUBLE TAPER ROLLER BEARINGS
Specs
| | |
| --- | --- |
| Model | 51BX50 |
| Cutting Width | 51" (1.3 m) |
| Recommended Excavator Weight Range (in Pounds) | 50K-88K |
| Overall Width | 85.5" (2.2 m) |
| Number of Teeth | 20 |
| Weight (without mount) | 4,200 LBS (1,950 kg) |
| Crated Weight | 4,350 LBS (1,973.1 kg) |
| Hydraulic Horsepower Range | 100-350 Hydraulic HP |