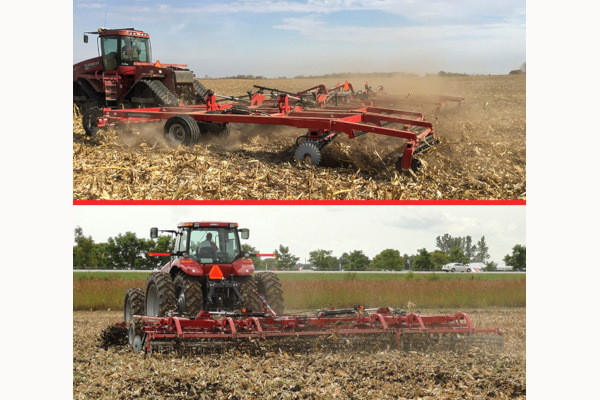 Double tap to zoom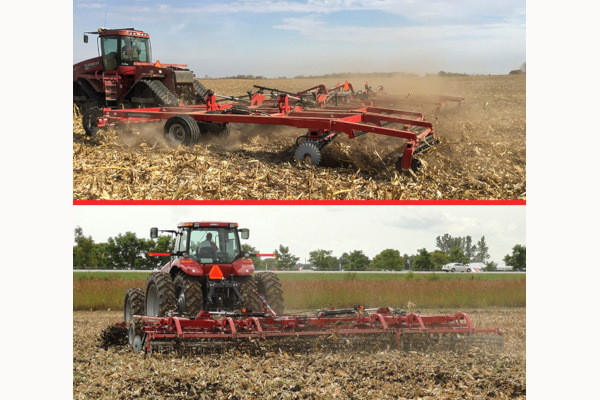 Features
Gang Angle Adjustment
What sets the Kongskilde Model 9100 apart from its competition is the ability to adjust the gang angle. The angle can be set at 5 different settings - 0, 4, 8,   12, and 16 degrees. This adjustment allows for a minimal cutting action for Spring use to a very aggressive cutting action for Fall use.
In addition to the adjustable gangs, the Kongskilde Model 9100 uses a 20" (18" on the outside) Soil Razor VT disk blade to cut the trash and mix with the  soil to help in the decomposing of the residue. The saw tooth design remains sharp as it wears and makes for a perfect cutting action to suit all soil types and residue management.
Vertical Tillage System Spiral Rollers
The 14" spiral rollers assure the desired leveling and firming of the soil. The use of the rollers make for a suitable seedbed in a single pass. There is a  separate roller for each section of the unit and each section can be pinned up for fall tillage. The mounting arms of the spiral rollers have an adjustable  spring to control the amount of down-pressure on the rollers. Each roller has a heavy duty flange type greaseable bearing.
Tandem Wheels
Heavy duty tandem wheels are on the mainframe and wings. The mainframe has 12 x 16.5 - 12 ply tires with 8-bolt wheels. The wings have 11L x 15 - 12 ply tires with 6-bolt wheels.
Framework
The framework consists of 6" x 6" for the mainframe (150 mm x 150 mm) - 1/2" (12.5 mm) wall thickness. The cross members are 6" x 4" (150 mm x 100  mm) - 1/2" (12.5 mm) wall thickness. The cross members are threaded through the front to back mainframe tubes for added strength. Because of the size of  the framework, the Kongskilde Model 9100 is the heaviest (without the use of suitcase weights) vertical tillage machine in the industry, thus assuring the desired penetration even in the heaviest of soils and residue. All tubes are capped for a finished look.
Specs
| | |
| --- | --- |
| Model | 9132 |
| Approx. weight | 21,000 lbs |
| Blade spacing | 8'' |
| Number of blades | 98 |
| Transport height | 14' |
| Transport width | 17'6" |
| Working width | 32' |