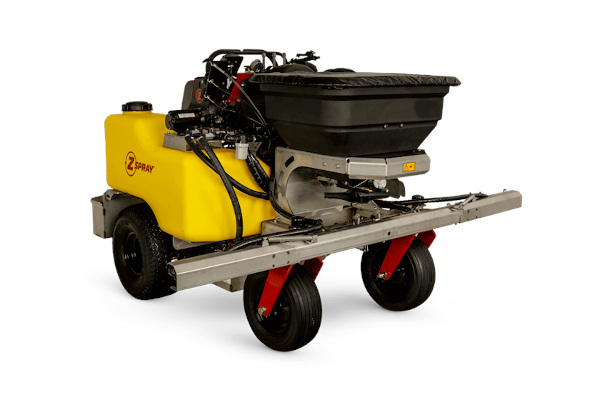 Double tap to zoom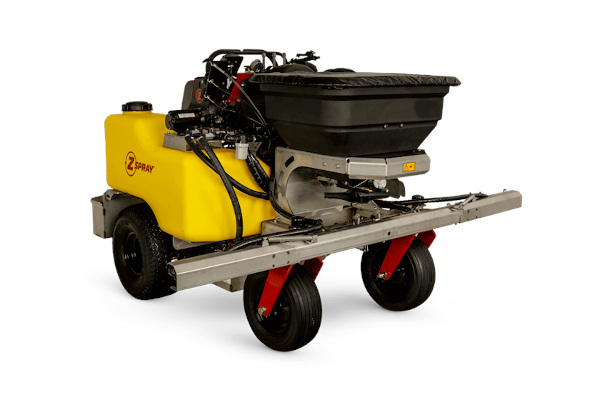 Features
Maximum Capacity
With its 250lb hopper and 60-gallon tank capacity, Z-Spray Max has the capacity required to finish the largest jobs without refilling.
75-Foot Hose Reel
Extended range to ease spraying in tight, hard to reach places away from the machine.
Locking Caster Wheels
Enables the operator to lock the caster wheels for increased stability on varied terrain.
Foot-Operated Switch
Starts and stops the pump and foam marker simultaneously (when installed), enabling precise application while freeing the operator's hands.
Low-Maintenance Design
Only one annual grease point, so you can go all season without required maintenance.
Patented Magnetic Operator Pad
The contoured operator pad is secured with magnets, enabling easy removal for service, or accessing the spray chart.
Internal Wet Disc Parking Brake
Holds the machine reliably, even with a full load of materials.
Specs
ZS5260XL - N/A in California
| | |
| --- | --- |
| Equipment |   |
| Front Tires | 16 x 6.5-6 |
| Rear Tires | 20 x 10.5-8 |
| Frame | Stainless Steel |
| Gate Width | 52" |
| UPC | 193308000947 |
| Onboard Intelligence | Digital Speedometer |
| Power Components |   |
| Transmission | Hydrostatic |
| Drive System | Pump & Wheel Motor |
| Fuel Capacity | 5-gallon (18.9-L) fuel tank |
| Ground Speed | 0-8.0 mph (12.9 kmph) forward, 0-4.0 mph (6.4 kmph) reverse |
| Dimensions |   |
| Length | 73 in. |
| Width | 52 in. |
| Height | 50 in. |
| Curb Weight | 1026 |
| Spreader System |   |
| Hopper Capacity | 220 lbs. + two 50 lbs. fertilizer trays; hydraulic motor |
| Spread Width | Adjustable from 3 ft. up to 25 ft. |
| Engine |   |
| Displacement | 479 |
| Engine Spec | 3054470592G1 |
| Engine Brand | Vanguard |
| Spray System |   |
| Tank Capacity | 60 gal. (two 30 gal.) |
| Pump | Remco |
| Spray Rate | Capacity per Nozzle - 0.22 gpm at 30 psi, 0.25 gpm at 40 psi |
| Spray Width | 2 ft, 6 ft, 8ft, or 10 ft |
Accessories and Attachments
30 Gallon Auxiliary Tank


Foam Marker (Jr/Mid Replaces Fert Box)
FOAM MARKER (JR/MID REPLACES FERT BOX)
7 Gallon Auxiliary Tank (Left Side, Replaces Fert Box)
MAX - 7 GALLON AUXILIARY TANK (LEFT SIDE, REPLACES FERT BOX)
7 Gallon Isolated Tank (Right Side, Replaces Fert Box)
MAX - 7 GALLON ISOLATED TANK (RIGHT SIDE, REPLACES FERT BOX)