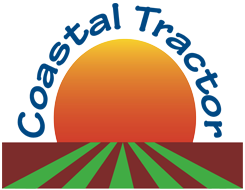 Specializing in farm equipment sales, parts, and service.
New Holland W50B TC (Prior Model)
/ NOT AVAILABLE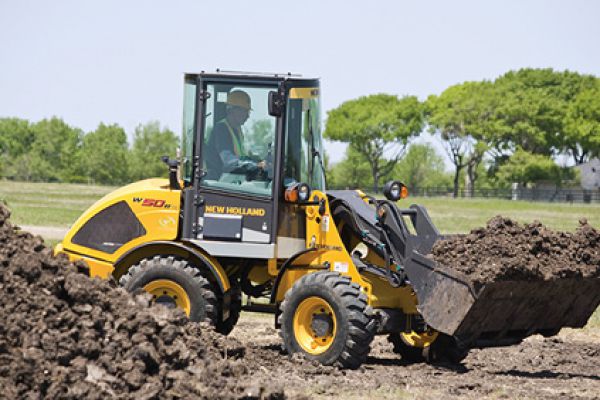 Double tap to zoom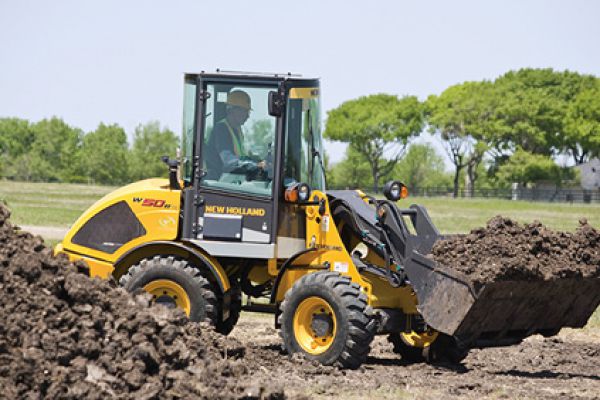 Features
PRECISE CONTROL AND LOAD PLACEMENT.
New Holland compact wheel loaders provide a combination of increased versatility, increased comfort and control so you get the job done more quickly and efficiently. SMART precise load control and speed control improves operating efficiency. And these wheel loaders do much more than load. With big engine and hydraulic power and a choice of buckets and attachments, you can scrape, grade, haul and more.
Specifications
Engine
---
| | |
| --- | --- |
| Model Tier III certified | FPT F5C |
| Horsepower, gross, hp (kW) | 54 (41) |
| Horsepower, net, hp (kW) | 50 (38) |
| Rated rpm | 2.300 |
| Torque, net (SAE J1349) | 162 lb-ft @ 1400 |
| Displacement, cu in (l) | 195 (3 11) |
| Aspiration | Natural |
Transmission
---
| | |
| --- | --- |
| 1st Gear, mph | 3.1 |
| 2nd Gear, mph | 12.4 |
| High travel speed (HTS) option engaged, mph. | - |
Hydraulics
---
| | |
| --- | --- |
| Pump capacity, gpm (lpm) | 13.7 (52) |
| System relief pressure, psi | 3,625 |
Performance - Bucket with Quick Coupler
---
| | |
| --- | --- |
| Bucket capacity heaped, cu yd ( m³) | .92 (.70) |
| Bucket capacity struck, yd (m) | .73 (.56) |
| Breakout force, lbs (kg) | 8,386 (3804) |
| Static tip load straight, lbs (kg) | 7,377 (3346) |
| Static tip load full turn, lbs (kg) | 6,489 (2944) |
| Operating weight, lbs (kg) | 10,173 (4615) |
| Dump height, ft in (mm) | 8' 3" (2529) |
| Dump reach, in (mm) | 33 (825) |
Dimensions
---
| | |
| --- | --- |
| Overall length | 17′ 7″ (5360 mm) |
| Wheelbase | 85.9″ (2182 mm) |
| Height to top of ROPS/Cab | 8′ 10″ (2710 mm) |
| Dump reach at full height @ 45° | 34″ (825 mm) |
| Dump reach @ 7′ | 3′ 10″ (1172 mm) |
| Dump clearance at full height @ 45° | 8′ 3″ (2529 mm) |
| Hinge pin height | 10′ 8″ (3243 mm) |
| Dig depth below grade | 3.6″ (92 mm) |
| Ground clearance under axle | 13″ (330 mm) |
| Width over tires | 6′ 1″ (1841 mm) |
| Bucket rollback at carry | 52° |
| Bucket rollback fully raised | 54° |
| Turning radius | 12′ 7″ (3847 mm) |
| Articulation angle | 41˚ |