New Holland Speedrower 220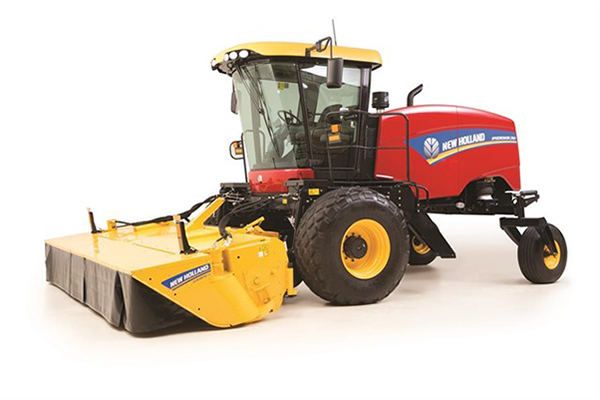 Double tap to zoom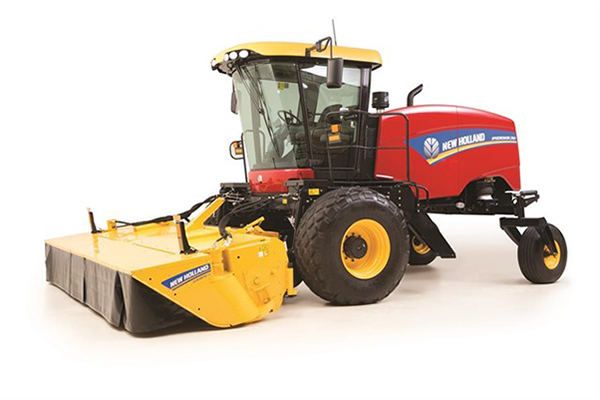 Features
Drivetrain
BRUTE POWER WITH A FUEL CONSCIENCE
The new Tier 4B Speedrower® Series engines offer the best of all worlds: increased power and performance combined with improved fuel efficiency—all in a cleaner-burning engine that's built New Holland SMART. How much better can it get? New Holland achieves Tier 4B emissions levels with a Selective Catalytic Reduction (SCR) system, employing diesel exhaust fluid (DEF), and a Diesel Oxidation Catalyst (DOC) Canister.
Selective Catalytic Reduction (SCR) Process
• Exhaust gases leave turbo outlet and travels through the DOC canister, where precise amounts of DEF are injected into the exhaust stream
• DEF quickly vaporizes and converts to ammonia and carbon dioxide (the basic elements of DEF)
• Exhaust, carbon dioxide and ammonia pass into the SCR chamber
• In the SCR canister, carbon dioxide is neutralized and the ammonia catalytically reacts to NOx
• After the catalytic reaction, the harmless nitrogen vapor and water vapor are released through the exhaust pipe to the atmosphere
INCREASED EFFICIENCY WITH DECREASED COST
The new Tier 4B engines, combined with programmable throttle, lead to maximum fuel efficiency, resulting in decreased operating costs. The programmable engine throttle allows you to set the engine speed to just what you need, creating even more fuel savings. The reduction in fuel consumption means fewer fill ups, allowing for more uninterrupted time in the field. Now, the Speedrower goes further and longer without stopping to fill up.
UPGRADED COOLING PACKAGE
The Speedrower cooling system is designed to suit the cooling needs of each model and offers increased cooling capacity compared to previous models. The rotary air screen housing is made of steel and creates a tight seal, resulting in improved performance. The wand and duct system is a full third larger than previous models and the rotary screen motor has been upgraded to ensure the screen is continually cleaned. When working in extreme temperature conditions, add the optional diesel fuel cooler for a clean efficient burn to capture more horsepower from every gallon of fuel.
10-20% INCREASED HORSEPOWER: ENGINES TUNED FOR RELIABLE PEFORMANCE
The new Speedrower Tier 4B 6-cylinder engines provide an impressive 10% boost in engine horsepower, and the 4-cylinder upgrade to electronic common-rail fuel delivery provides an amazing 20% increase over the prior Tier 3 model. With more torque than before, Speedrower windrowers are the right choice to climb hills, and power through the tough stuff with reliable power when you need it most.
BEST-IN-CLASS 24-MPH TRANSPORT SPEED OPTION
New Holland's continued innovation has led to an optional three range hydrostatic drive that produces transport speeds up to 24 mph, making it the SMART choice when you need to move quickly between farm and field. Time is a nonrenewable resource, and Speedrower® windrowers get you there faster than any other self-propelled windrower does today.
SAVE FUEL WITH ROADCRUISE™ TRANSPORT MODE
RoadCruise™ transport mode comes standard on new Speedrower® windrowers and automatically sets engine speed to maximize fuel economy in transport. With the CommandGrip™ multi-function handle in the neutral position and power take off disengaged, the system is activated automatically when the operator selects third range or when a new transport mode is selected on two-range Speedrower windrowers. When Rode Cruise transport mode is active engine speed and hydrostatic pump flow automatically adjusts on demand for higher or lower ground speed providing the ideal engine speed corresponding to the ground speed selected.
ENHANCED HANDLING FOR MORE SPEED
New Holland has not only enhanced the speed of the Speedrower windrower, but also improved the handling of the machine, creating greater control. Greater control provides the foundation for the increase in speed. The hydraulically controlled steering system allows for precise steering at higher speeds. All Speedrower self-propelled windrowers are equipped with 9-degree swivel post casters, and all models equipped with high-speed transport also feature shock absorbers to prevent caster shimmy for better handling during transport.
ADJUSTABLE BALLASTING FOR HIGH-SPEED CONTROL
For optimum handling and control, the rear ballast is easily adjusted to match the requirements of the header. The optional front ballast box provides stability and traction during transport when the header is detached.
Specs
| | |
| --- | --- |
| Model | Speedrower 220   |
| Engine |   |
| Engine | New Holland 6-cylinder, Tier 4B |
| ECOBlue™ SCR HI-eSCR system (Selective Catalytic Reduction) | Standard |
| Displacement [cu. In. (L)] | 411 (6.7) |
| Aspiration | Turbocharged with air-to-air intercooler |
| Rated engine power ISO - ECE R120 [hp (kW)] | 210 (156) |
| Max engine power ISO - ECE R120 [hp (kW)] | 220 (164) |
| Fuel injection pump | Electronically controlled high-pressure common rail |
| Batteries / alternator | 2, 12-volt 650 CCA / 150 amp |
| Fuel capacity [gal. (L)] | 120 (454) |
| DEF capacity [gal. (L)] | 19 (71.9) |
| Rotating wand cooling system pre-cleaner | Standard |
| Transmission |   |
| Transmission | Dual range hydrostatic, or optional high speed, 3-range hydrostatic |
| Final Drive | Double reduction planetary |
| Steering | Hydrostatic |
| Speed range* - 2 speed drive [mph (kph)] | 0-19 (0-30.6) |
| Speed range* - 3 speed drive [mph (kph)] | 0-24 (0-38.6) |
| Dimensions |   |
| Length with header [in. (mm)] | 283 (7188)**** with Durabine 416 |
| Less header and lift arms [in. (mm)] | 199.2 (5060)*** |
| Height [in. (mm)] | 134.8 (3424)*** |
| Wheelbase [in. (mm)] | 144.1 (3659) |
| Front tread width [in. (mm)] | 154.8 (3932)*** |
| Rear tread width (adjustable) | 90-105-120 (2286-2667-3048) |
| Rear axle suspension | Standard |
| Tractor weight [lbs. (kg)] | 12,370 (5613) Hay*** 13,000 (5613) Draper**** |
| Rear tires | 14L x 16.1 8PR or 16.5L x 16.1 8PR |
| Rear axle ground clearance | 42.5 (1080) |
| Header |   |
| Header drive | Hydraulic |
| Header flotation | Independent hydraulic flotation (flotation weight at each end of header independently controlled from cab) |
| Hydraulic header tilt | Standard |
| Header power reverser | Standard |
| Adjustable windrow shields (on hay units) | Standard (NA on draper heads) |
| In-cab windrow-width adjustment | Optional |
| Single lever header transport lock system | Standard |
| Cab |   |
| Cab | Deluxe, curved tinted glass |
| Cab suspension | Standard |
| Cab air filtration | Dual - 1 external air filter and 1 in-cab recirculation filter |
| Standard seat | Deluxe cloth, air suspension seat with ride dampening, adjustable fore/aft and lumbar |
| Optional seat | Deluxe leather, heated, air-suspension seat with ride dampening, adjustable fore/aft lumbar |
| Instructor seat | Standard |