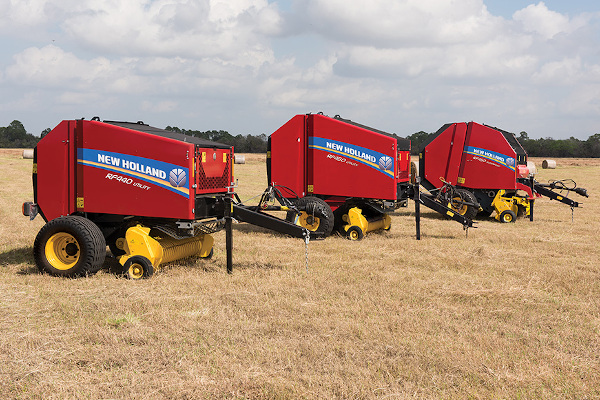 Double tap to zoom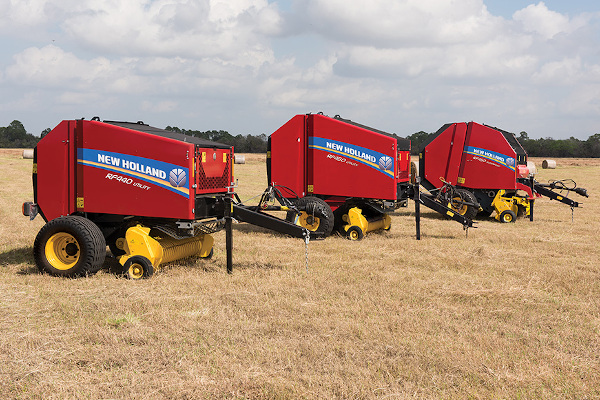 Features
EASILY HANDLE LARGE SWATHS AND WINDROWS
Extra-wide pickups and a large bale chamber feed opening make it easy for these balers to handle large swaths and windrows.
QUICK, SURE BALE STARTS
A combination of floor rolls and closely spaced slats start the bale quickly and compress crop for consistent density.
SIMPLE BALE DENSITY ADJUSTMENTS
Three color-coded mechanical settings make changing bale density easy.
NET, TWINE OR BOTH
The Auto-Wrap™ system automatically begins wrapping bales when they are fully formed.
MAKE QUALITY SILAGE BALES ON A BUDGET
The RF450 SuperFeed™ round baler handles extra-tough baling conditions and produces dense 4'x5' bales, including silage bales with up to 80% moisture. This tough baler is an ideal choice for small livestock farms and contract operators looking for an alternative to more premium variable-chamber silage balers.
Rugged bale chamber
The RF 450 SuperFeed uses seven rolls and 29-bar chain and slat system. Thanks to its rugged build and tough floor roller bearings, these balers have the size and strength to cope with dense and heavy bales.
Built for hard work, wet or dry
An RF450 SuperFeed baler is designed to handle demanding conditions, including sticky silage crops, short dry material, brittle straw, or long-stalked crops like cornstalks or sudan grass.
Larger swaths? No problem
With its wide, standard,2.25-meter pickup and powered rotor feeder, RF450 SuperFeed balers are able to tackle larger swaths at higher speed. The RF450 SuperFeed™ has 27 tines per bar, for a total of 108 pickup tines for a clean sweep in all working conditions.
Non-stop productivity
A radial pin slip clutch protects the pickup drive. If a blockage occurs, the clutch opens to protect the drive, but automatically resets as additional material is drawn into the bale chamber. For added protection, a shear bolt is also fitted, and the PTO intake shaft on all models has slip clutch protection.
Powered rotor feeder
The standard 2.25-meter pickup with rotor feeder actively feeds material into the RF450 SuperFeed bale chamber. To ensure smooth feeding, the rotor tines are mounted in a spiral pattern. The rotor drive is shearbolt-protected for your peace of mind.
Easy to check. Easy to care for
Vertically hinged side panels provide easy access to the rugged, simple and efficient driveline. To ease maintenance, standard equipment includes seven main drive chains with automatic lubrication plus a bank of grease points to ensure all key bearings are easy to lubricate.
Specs
| | |
| --- | --- |
| RF450 SuperFeed™ |   |
| Bale size |   |
| Bale diameter in. (cm) | 59 (155) |
| Bale width in. (cm) | 47 (120) |
| Pickup |   |
| Width (DIN) in. (m) | 88.6 (2.25) |
| Number of tines / tine bars | 108 / 4 |
| Windguard | Tine rake / Plate |
| Number of pickup tines per row | 23 |
| Protection | Radial pin slipclutch |
| 540-rpm PTO | Standard |
| Suspension | Standard |
| Pickup wheels | Pneumatic |
| Feeding |   |
| Type in. (mm) | 18.5 (470) rotor feeder |
| Number of augers | 2 |
| Bale formation |   |
| Type strokes/min | 48 |
| Density system in. (mm) | 28 (710) |
| Number of rollers | 7 rolls & 29 bars |
| Wrapping |   |
| Wrap material: twine / net / twine & net | Standard/Optional at exrtra cost /Optional at exrtra cost |
| Twine ball capacity | 4 |
| Control | Auto-Wrap™ bale monitor |
| Spare roll capacity | 1 active, 1 stored |
| Baler dimensions |   |
| Length, includes bale ejector in. (mm) | 148 (3760) |
| Height in. (mm) | 96.5 (2450) |
| Adjustable Track width Min. / Max. in. (cm) | 74.4 / 80.7 (189 / 205) |
| Weight * lbs (kg) | 2,700 (1,225) |
| Tires | 18L-16.1SL 10 PR |
| PTO |   |
| Minimum PTO power (hp) | 85 |
| Front access ladder | Optional at extra cost |
| Bale kicker |   |
| Bale kicker | Optional at extra cost |
| Automatic lubrication |   |
| Automatic lubrication | Optional at extra cost |