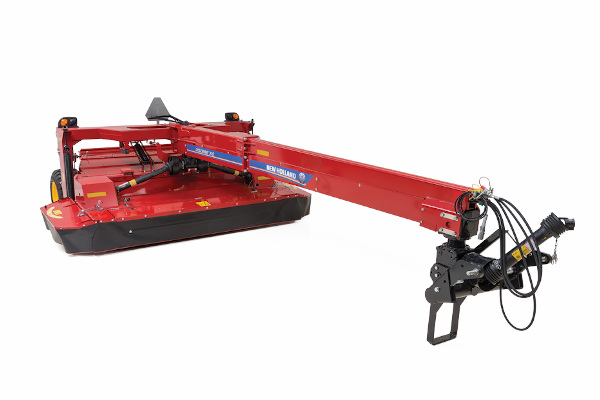 Double tap to zoom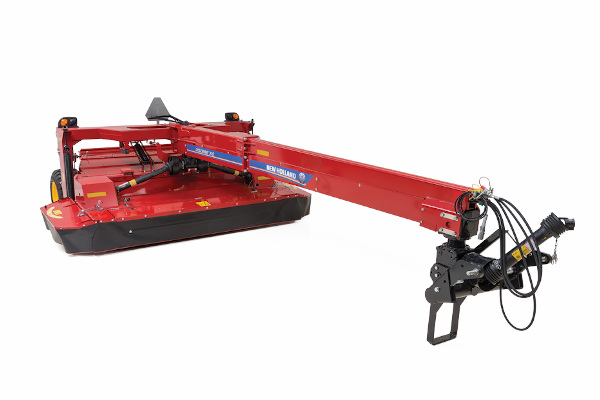 Features
LOW, SMOOTH CUTTING
The new low-profile disc cutterbar cuts low and clean, resulting in uniform stubble height, even in light grasses, or tough and tangled crops.

CENTER-PIVOT MANEUVERING
Mow right or left or any way you like with the productive, center-pivot design.

LOW POWER REQUIREMENT
You get the big productivity of 10' 4'' and 11' 6'' cutting widths with a mere 80 or 87 PTO horsepower.

EFFECTIVE CONDITIONING CHOICES
Choose the best conditioning system for your crops – chevron rubbers rolls or the all-new Y-tine flail system.
DISC CUTTERBAR
LOW-PROFILE DISC CUTTERBAR
You cut every bit of crop with a disc cutterbar that mows at a shallow angle, slicing cleanly through the lightest grass or toughest down and tangled crops, and producing uniform stubble height for clean, good-looking mown fields. The high-capacity counter-rotating discs move crop rearward, out of the knife path and into the conditioner.
PEACE OF MIND AND SIMPLIFIED MAINTENANCE THAT SAVES TIME
Large-diameter gear wheels operate in a sealed oil bath for continuous lubrication, and top-serviceable disc drive modules ensure strength, reliability and easy ownership. A single cutterbar oil change point makes for convenient and simple periodic maintenance.
BUILT-IN PROTECTION
Special replaceable counter knives positioned between each disc provide extra frontal protection and are raised to deflect bent or damaged knives. For added peace of mind, the cutterbar is outfitted with combined skid shoe and rock guards that extend beyond the disc path, protecting each disc while providing full coverage completely enclosing the underside.
SIMPLE, CONVENIENT ADJUSTMENTS
Working in difficult conditions? It's easy to adjust cutting height from less than one inch to nearly four inches, or outfit the cutterbar with optional raised skid shoes to cut over five-inches high. A cutterbar angle indicator is included for precise, fast, and easy adjustments.
ACCURATE AND RESPONSIVE MOWER SUSPENSION
A unique suspension geometry allows the Discbine 310 and 312 cutterbar to tip back on the skid shoes and follow contours to maintain a consistent knife height. In the event of a collision, the responsive system allows the cutterbar to rise up and over obstructions.
CONDITIONING ROLLS OR FLAILS
YOUR CHOICE OF PROVEN ROLL OR FLAIL CONDITIONING
Select the conditioning system that matches your crops and conditions.
CHEVRON INTERMESHING RUBBER ROLLS
Gentle chevron rubber intermeshing rolls provide full-stem crimping and cracking with a scrubbing action while handling the leaves of high-value feeds delicately, making it the ultimate solution for alfalfa and clover. This is possible because of the intermeshing fit and chevron profile of the lugs that grip the crop and generate an even crop flow to spread into fast-drying swaths or neatly formed windrows.
STEEL Y-TINE FLAILS (310, 312)
The fast rotating Y-tines efficiently strip wax from difficult-to-dry grasses. Simply adjust the conditioning hood to control the conditioning intensity. Raising the hood increases tine clearance while lowering the hood decreases tine clearance for higher intensity conditioning. A low-speed rotor kit is also available for delicate grass crops.
Specs
| | |
| --- | --- |
| Discbine® 312 (Steel) |   |
| Cutterbar |   |
| Cutting width ft. in. (m) | 11' 6" (3.51) |
| Cutterbar type | Low profile disc cutterbar |
| Number of discs | 9 |
| Knives per disc | 2 |
| Tilt angle degrees | 0-9° |
| Flotation | Top Safe cutterbar angle & vertical movement |
| Theoretical cutting height in (mm) | 1-3.9 (25-100) |
| Cutting height w/opt. high-stubble shoes in (mm) | 2.2-5.1 (55-130) |
| Roll Conditioner |   |
| Type | - |
| Width ft. (m) | - |
| Drive method | - |
| Speed rpm | - |
| Conditioner roll tension adjustment | - |
| Conditioner gap adjustment | - |
| Steel Y-Tine Flail Conditioner |   |
| Type | Y-Tine Flail Rotor with 86 flails |
| Drive method | Belt driven |
| Speed rpm | 1000 |
| Conditioner gap adjustment | Central, Single point |
| Crop discharge |   |
| Swath width ft. (m) | 9.2 (2.8) |
| Windrow width ft. (m) | 4-6.5 (1.2-2.0) |
| Driveline |   |
| PTO shaft spline/size | 1 3/8- 21 Spline |
| Input speed rpm | 1000 (only) |
| Drive protection | Combined Friction Slip & Overrunning Clutch Assembly |
| Tongue |   |
| Type | Center Pivot |
| Hitch type | 2-point semi mounted swivel hitch attachment, Category II Only (Not quick hitch compatible) |
| Tractor Requirements |   |
| Minimum PTO power requirement hp (kw) | 87 (64) |
| Hydraulic circuits required | 1 SA, 1 DA |
| 3-pt. hitch category | Category II, Three-point |
| Tires | 380/55-17 Tubeless Ag Rib Implement Tires |
| Transport speed mph (kph) | 20 (32) |
| Dimensions |   |
| Width transporting ft. in. (m) | 11' 4" (3.46) |
| Width operating ft. in. (m) | 17' 10" (5.45) |
| Length transport ft. in. (m) | 21' (6.41) |
| Height transport ft. in. (m) | 6' 5" (1.95) |
| Ground clearance with head fully raised in. (mm) | 19 (481) |
| *Weight lbs (kg) | 5776 (620) |