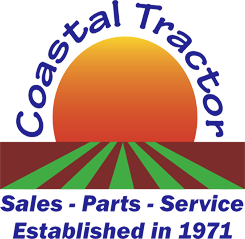 Specializing in farm equipment sales, parts, and service.
New Holland BC5080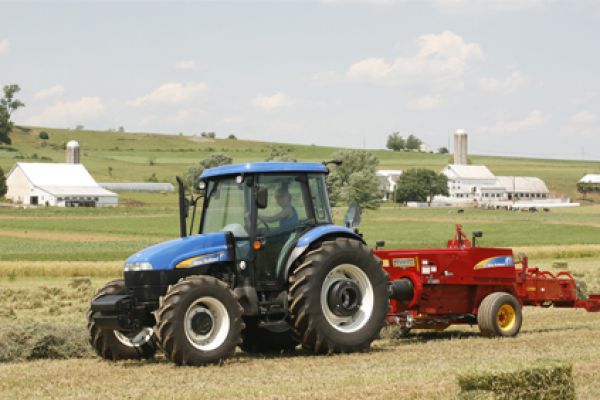 Double tap to zoom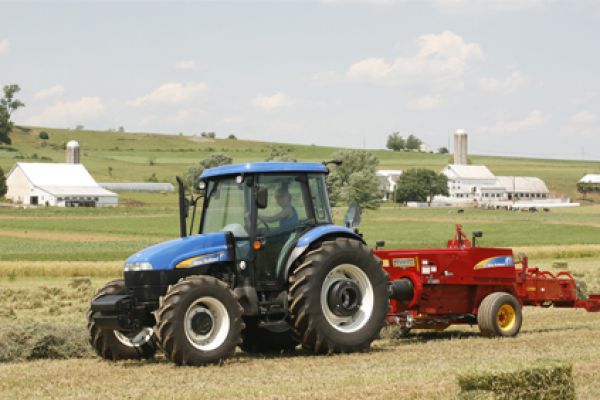 Features
IMPROVEMENTS TO MAKE YOU MORE PRODUCTIVE
New Holland has made many improvements to the BC5000 Series square balers from our last generation of balers. Most refine existing features, to make them more convenient or even more durable.
MORE DURABILITY ON ALL MODELS
Building in more strength and durability is one way New Holland has improved this already top-of-line baler. New improvements include:
• Reinforced tension rail anchor support
• Convex slide block for longer wear and improved plunger performance
• Haydog spring mount reinforcement for improved durability
REFINED DESIGN AND MORE CONVENIENCE
Adding more conveniences also improves productivity:
• Flip-up shield over main gearbox improves serviceability
• Redesigned knotter gear drive provides easier pickup belt service
• Easier access to the plunger bearing and cam for inspection and adjustment
• New hydraulic hose storage slots in the power pivot shield
• New optional halogen work lights for improved visibility
• New optional roading light kit for states requiring them
CHANGES TO THE BC5080
• Larger wagon hitch bolt hole for easier hookup
• Relocated Hydraformatic oil pump for easier servicing
• New Class 6 heavy-duty driveline for improved durability
• New pickup drive chain access shield for easier servicing
• Reinforced tongue for added durability
• Wider clevis hitch to accommodate larger tractor drawbars
• Star wheel moved rearward for improved bale length consistency
• Tall eight-ball twine box for increased twine capacity
• Cast iron connecting rod for improved durability
• Heavier bale case for improved durability
Specifications
| | |
| --- | --- |
| BC5080 |   |
| Bale Size |   |
| Cross section | 16 x 18 in. (41 x 48 cm) |
| Length | Adjustable, 12 to 52 in. (31 to 132 cm) |
| SuperSweep™ Pickup |   |
| Width inside | 75 in. (1.9 m) |
| Width on flare | 80 in. (2 m) |
| Number of tines | 156 |
| Number of tine bars | 6 |
| Floating Windguard | Thirteen rods |
| Drive | V-belt to roller chain to "lost motion" reel drive |
| Gauge Wheel | 15 x 6.00 x 6; pneumatic |
| Hydraulic Pickup Lift | Optional |
| Bale Chamber |   |
| Feeding System | High-Capacity, Rotary Feeding System |
| Number Feed Rotors | 3 |
| Packer Fork | Standard - Adjustable |
| Feed Opening | 318 sq. in. (2052 sq. cm.) |
| Standard Density System | 4-way Hydroformatic |
| Optional Density System | - |
| Bale Case | Heavy-Duty |
| Plunger |   |
| Stroke length | 30 in. (76.2 cm) |
| Speed (540 rpm) | 93 SPM |
| Material | High Strength Steel |
| Plunger Rail | Heavy-Duty |
| Tying Mechanisms |   |
| Twine knotter | Heavy-Duty |
| Billhook | Hardened-Steel |
| Wire twister | - |
| Protection | Shearbolt |
| Twine capacity | 8-Lg. Twine Ball |
| Wire capacity | - |
| Main Drive |   |
| Flywheel weight | 357 lb (162 kg) |
| PTO | Power-Pivot, Three-joint PTO |
| PTO Category | Cat. 6 HD |
| Protection  | Shearbolt, overrunning and slip clutches |
| Gearbox | Heat-treated hypoid gears on tapered roller bearings running in an oil bath |
| Flotation Tires |   |
| Right side | 11L x 14, 6PR |
| Left side | 14L x 16.1, 8PR |
| Model 72 Bale Thrower |   |
| Compatible | NO |
| Dimensions |   |
| Height (max.) | 71 in. (180 cm) |
| Width | 120 in. (304 cm) |
| Length (transport less chute) | 217 in. (551 cm) |
| Weight (twine) | 4,200 lb (1905 kg) |
| Weight (wire) | - |
| Tractor Requirement* |   |
| Minimum horsepower | 80 hp (60 kW) |
| Minimum weight | Tractor weight must be greater than baler weight; excludes bale thrower |
| Hydraulic requirement | 1 double acting, 1 single acting |