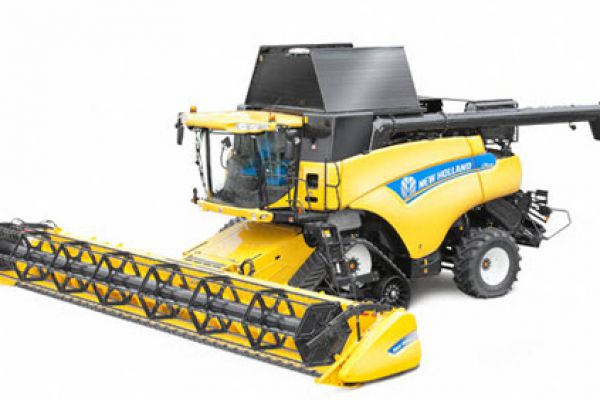 Double tap to zoom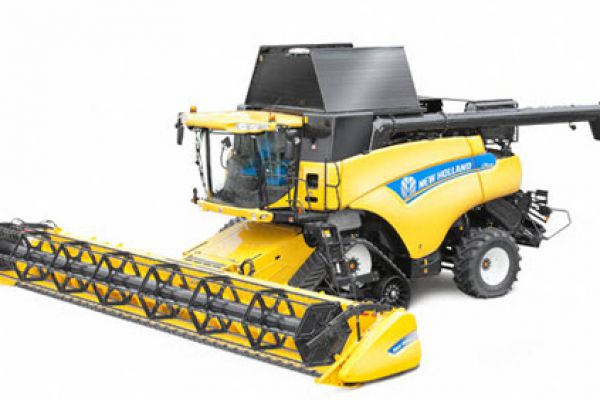 Features
ENGINE
CLEAN-BREATHING ENGINES THAT SAVE YOU UP TO 10%
TAKE THAT TO THE BANK
CR Series combines benefit from the clean power and performance of FPT Industrial Cursor 9, 10 and 13 engines with ECOBlue™ SCR technology for Tier 4A-compliance.
THE ECOBLUE ADVANTAGE: BREATHABILITY
By using ECOBlue technology with Selective Catalytic Reduction (SCR) and DEF/AdBlue® after treatment, the nitrogen oxides in exhaust gas are converted to harmless water and nitrogen. This treatment is separate from the air intake which means an SCR engine "breathes" only clean fresh air, ensuring optimal combustion conditions.
REDUCED RPM SAVES YOU MONEY, TOO
The engines powering CR Series combines are not only helping to save the environment, they help to save you a nice chunk of change, too - up to 10% savings in fuel! During transport, engines can run at a low 1600 rpm. Reduced engine rpm at idle helps reduce fuel consumption, too.
COOLER IS BETTER
CR Tier 4 ECOBlue SCR engines run much cooler than previous Tier 3 engines, allowing for better fuel economy, and in some models, increased power.
FEEDING
SMOOTH FEEDING. EVEN CROP FLOW. HIGHER CAPACITY
TAKE THAT TO THE BANK.
CR Series combines feature a significantly upgraded feeding system that enhances its already highly efficient operation.
REINFORCED FEEDER
New Holland increased feeder housing strength and increased lift capacity significantly to ensure maximum reliability and performance, even with the very largest headers. New Holland has also improved service access, reduced service requirements, increased reversing force and increased lateral float angle. Four feeder chains with connecting slats are standard on the largest CR combine models - the CR8090 and CR9090 - for maximum durability, and improved crop flow and feeding to the Twin Rotors®.
INTELLICRUISE SMOOTHNESS
The IntelliCruise™ automatic crop feeding system automatically matches the forward speed to crop load. A sensor on the feeder driveline continually monitors the demand placed on the header. In areas with lighter crop, forward speed automatically increases to guarantee the CR combine works at full capacity.
TERRAIN TRACER™ LATERAL FLOAT SYSTEM
When harvesting on uneven ground, the Terrain Tracer system ensures you capture every grain of crop. The system automatically raises the head vertically and tilts the head laterally to follow the contours of your fields using the mode you choose:

• Compensation Mode - ideal for low-growing crops like peas and beans, this mode maintains a pre-established contact pressure
• Stubble Height Mode - maintains a pre-set stubble height using sensors on the underside of the header
• AutoFloat™ Mode - uses a combination of sensors to maintain a uniform stubble height, plus prevents bulldozing.
REVERSE OUT SLUGS
New Holland's unique header/reverser system allows you to reverse-out slugs and slowly feed material back into the combine. Simply disengage the header/feeder drive by flipping a rocker switch on the right-hand console. The "+" and "–" buttons on the multifunction handle operate the feeder in reverse and forward directions.
FAST HEAD HOOK-UP
An easy one-lever, left-side head latching system provides safe, secure and fast head connection while standing comfortably beside the feeder. A hydraulic multi-coupler provides one-step quick connect and disconnect for all hydraulic functions
THE WIDEST SELECTION OF HEADS IN THE BUSINESS
New Holland offers the widest variety of heads to harvest a vast array of crops. From small grain to grass and flower seeds, from rice to corn and beans, New Holland has the perfect match for high capacity CR Twin Rotor® combines. Header options include:
• 740CF Super Flex cutterbar auger heads
• 760CG Varifeed™ rigid cutterbar auger heads
• 790CP windrow pickup heads
• 880CF Super Flex cutterbar draper heads
• 840CD rigid cutterbar draper heads
Specs
| | |
| --- | --- |
| CR7090 |   |
| Combine Class |   |
| Combine Class |  7 |
| Grain Header |   |
| Cutting width - 72C direct-cut rigid cutterbar auger ft. (m) | 25 & 30 (7.62 & 9.15) |
| Cutting width - 740CF direct-cut SuperFlex cutterbar auger ft. (m) | 20-35 (6.10-10.67) |
| Cutting width - 760CG Varifeed™ rigid cutterbar auger ft. (m) | 30 & 35 (9.15 & 10.67) |
| Cutting width - 790CP windrow pickup ft. (m) | 12 & 15 (3.66 & 4.57) |
| Cutting width - 880CF SuperFlex cutterbar draper ft. (m) | 30-40 (9.15-12.19) |
| Cutting width - 840CD rigid draper head ft. (m) | 25-40 (7.62-12.19) |
| Corn Headers |   |
| 980CR rigid corn head (rows) | 6, 8, 12 |
| 980CF folding corn head (rows) | - |
| Automatic Header Control Systems |   |
| Terrain Tracer™ system | Standard |
| Autofloat™ system | Standard |
| Straw Elevator |   |
| Number of chains | 3 |
| ASP™ system (Advanced Stone Protection) | Standard |
| Dynamic Stone Protection™ system | Optional |
| Fixed feeder drive | Standard |
| Variable feeder drive | Optional |
| Harvest Suite™ Cab Volume |   |
| Harvest Suite™ Cab Volume [ft.³ (m³)] | 62.3 (5.8) |
| IntelliView™ IV monitor with adjustable position | Standard |
| ACS (Automatic Crop Settings) | Standard |
| Air-conditioning and coolbox | Standard |
| Automatic climate control | Standard |
| MP3 radio | Optional |
| New Holland Precision Land Management Systems |   |
| IntelliSteer™ ready automatic guidance system | Standard |
| IntelliCruise™ system | Optional |
| Full precision farming package including Yield measuring and moisture measuring, D-GPS yield mapping | Optional |
| Full precision farming package including Desktop software and software support service | Optional |
| Twin Rotor® Technology |   |
| S³ rotors | Standard |
| Twin Pitch rotors | Optional |
| Rotor diameter [in. (mm)] | 17 (432) |
| Rotor length [in. (mm)] | 104 (2632) |
| Adjustable rotor vanes | Optional |
| Cleaning |   |
| Self-levelling cleaning shoe | Standard |
| Enhanced aggressive shake shoe cleaning system | Standard |
| Total sieve area under wind control [in.² (m²)] | 8,370 (5.4) |
| Graintank and Unloading |   |
| Graintank manual folding extensions [bushels (l)] | 315 (11,100) |
| Graintank electric folding cover [bushels (l)] | 326 (11,500) |
| Unloading speed [bu/sec (l/sec)] | 3.7 (126) |
| Engine* Compliant with Tier 4 Emissions Regulations |   |
| Engine* Compliant with Tier 4 Emissions Regulations (l) | FPT Cursor 9 (8.7)* |
| ECOBlue™ SCR system (Selective Catalytic Reduction) | Standard |
| Gross engine power @ 2100 rpm [(CV) HP] | 408 |
| Maximum engine power @ 2000 rpm [(CV) HP] | 449 |
| Approved biodiesel blend** | B20 |
| Engine blow off system | Optional |
| Fuel Tank |   |
| Diesel capacity [gal. (l)] | 200 (750) |
| AdBlue capacity [gal. (l)] | 32 (120) |
| Transmission |   |
| Differential lock | Optional |
| Road transport speed (20 mph) | Standard |
| Road transport speed (25 mph) | Optional |
| Factory installed SmartTrax™ system | Optional |
| Residue Management |   |
| Integrated straw chopper | Standard |
| PSD™ (Positive Straw Discharge) belt | Optional |
| Opti-Spread™ residue management | - |
| Weight |   |
| Weight - Standard version less header and less strawchopper [lbs. (kg)] | 35,480 (16,093) |
| Dimensions |   |
| Dimensions with traction wheels / tracks*** | 900/60 R32 |
| Wheelbase [ft. (m)] | 12' 4" (3.76) |
| Maximum height - transport [ft. (m)] | 13' (3.96) |
| Maximum width [ft. (m)] | 13' (3.96) |
| Maximum width - transport [ft. (m)] | 10' 10" (3.3) |