New Holland 880CF SuperFlex Draper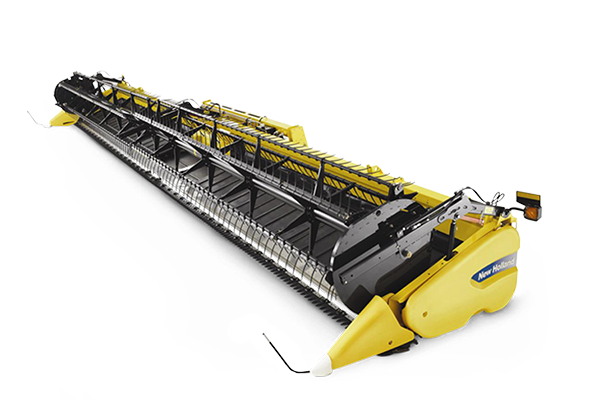 Double tap to zoom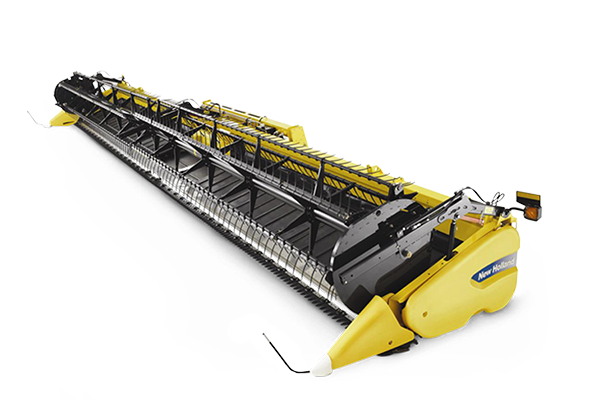 Features
ULTRA-CLOSE CUTTING AND REDUCED LOSSES
The 880CF SuperFlex™ cutterbar draper head provides closer cutting and better flotation so you can harvest every bit of your valuable crop. These rugged combine heads are available in cutting widths of 30, 35, 40 and 45 feet.
IMPROVED FLOTATION
A patented, rubber spring flotation system is the key to the 880CF head's ground-following ability. You can adjust the rubber torsion springs on each floor support manually to tailor flotation to conditions or to compensate for any cutterbar unevenness. Or, ask your New Holland dealer to install optional hydraulic cutterbar flotation so you can make adjustments right from the combine cab.
CLOSE CUTTING
The six-bat reel smoothly feeds crop to the cutterbar, which cuts cleanly using three-inch guards and over-serrated knife sections with 10 teeth per inch. A shorter skid shoe design reduces weight and allows the cutterbar to cut more closely to the ground for better cutterbar flexing. The header height control system makes use of either four-sensor or two-sensor combine systems. The hydraulic Syncro-Knife drive system uses a patented single gearbox mounted under the center draper to drive both knife assemblies. This design distributes weight evenly, neutralizes header vibration and leads to an exceptionally smooth cutting action.
SMOOTH DRAPER FEEDING
Variable-speed outer draper belts and fixed-speed twin 41.6-inch center draper belts deliver the crop smoothly to the floating 26-inch-diameter auger. The auger features five-inch flighting and handles heavy crop and feeds it smoothly into the combine. A flatter auger floor angle aids crop flow. You can also adjust the auger up, down, fore and aft to match conditions. A new, patented rubber retention system prevents broken auger fingers from entering the combine.
Specs
Model
880CF SuperFlex Draper 
Draper Header 
Cutting width, ft. in
30, 35, 40, 45
Rigid or Flex
Flex
Vertical Flex Range, in
n/6
Automatic Header Height Control
Optional
Gauge / Stabilizer wheels
Optional 35' and wider
Low Speed Transport
Optional, hydraulic deploy
Sickle Cutterbar 
Single or double knife
Dual opposing knives
Knife width
3
Knife drive
Synchro-knife center mounted drive
Knife speed, strokes per minute
2 x 630 = 1260
Reel 
Number of bats or tine bars
6 tine bars
Tine material
Plastic
Reel Diameter, in
42
Reel speed, rpm
0 to 60
Draper and Infeed 
Cross Belt width, in
41.5
Cross Belt speed, ft./min
0 to 863 rpm
Center Infeed belt speed, ft./min
769 rpm
Center Infeed belt width, in
Two 41.5 = 83
Infeed drum or auger diameter, in
26
Upper Cross Auger
Optional
Weights 
Weight, 25' width, lbs.
Width not offered
Weight, 30' width, lbs.
6,230
Weight, 35' width, lbs.
6,730
Weight, 40' width, lbs.
8,340
Weight, 45' width, lbs.
9,930