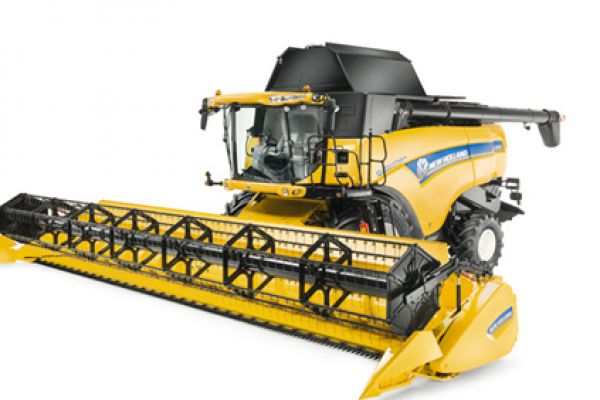 Double tap to zoom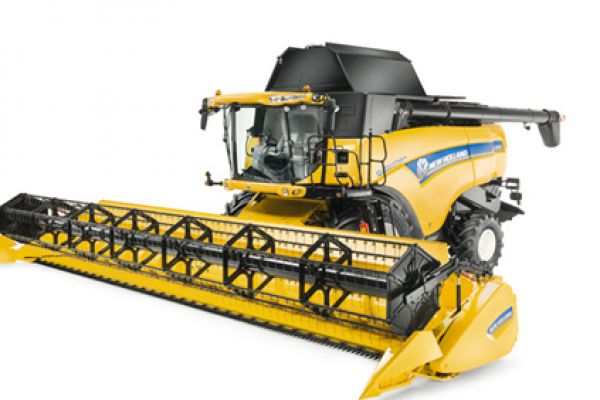 Features
Super clean, Super efficient
The CX8000 Elevation combines are fitted with ECOBlue™ SCR engines which comply with the stringent Tier 4A emissions regulations. Want more? How about a cool 10% fuel savings which will help reduce your input costs to make your CX Elevation combine even more efficient.
INTELLISTEER™: A SMARTER WAY TO HARVEST
All CX8000 Elevation combines can be ordered direct from the factory with IntelliSteer™ – New Holland's fully integrated auto guidance package. Fully compatible with the most accurate RTK correction signals, the IntelliSteer™ system can guarantee pass-to-pass and year-to-year accuracy of under an inch.
Super-size Tires, Super-small impact
All models are fully compatible with the tallest 620/70/R42 dual tires. These ultra tall tires deliver the very widest footprint, to reduce in-field compaction for increased future yields. It's a win-win situation.
Productive 25-MPH transport
The CX8000 Elevation Series are the fastest conventional combines around. The super-fast optional 25-mph top transport speed is achieved at engine speeds as low as a mere 1,600 rpm. The result? You spend more time in the field during tight harvesting windows and less time on productivity-reducing transport. Want more? How about exceptional fuel economy and reduced in-cab noise! 
Flexible heads offering
The CX8000 Elevation combines are fully compatible with the very largest heads. Whether you choose the draper, pick-up, SuperFlex, corn or Varifeed heads, the CX will clear even the largest fields in the blink of an eye.
Specs
| | |
| --- | --- |
| CX8080 Elevation |   |
| Combine Class |   |
| Combine Class | 7 |
| Grain heads |   |
| Cutting width [ft. (m)] | 20-35 (6.1 - 10.67) |
| Corn heads |   |
| Number of rows > Folding corn heads (rows) | 6-8 |
| Number of rows > Rigid corn heads (rows) | 6-10 |
| Automatic header control systems |   |
| Autofloat™ system | Standard |
| Straw elevator |   |
| Front face adjustment | Standard |
| Lateral Flotation | Standard |
| Cab |   |
| Leather air-suspension seat | Optional |
| Instructor's seat | Standard |
| IntelliView™ IV monitor with adjustable position | Standard |
| Automatic climate control and coolbox | Standard |
| Automatic climate control and fridge | Optional |
| New Holland Precision Land Management systems - Guidance systems |   |
| IntelliSteer™ automatic guidance system | Optional |
| IntelliCruise™ System | Optional |
| Automatic row guidance system for corn heads | Optional |
| New Holland Precision Land Management systems - Precision farming |   |
| Moisture measuring | Optional |
| Yield measuring and moisture measuring | Optional |
| Full Precision farming package including yield measuring and moisture measuring, DGPS yield mapping | Optional |
| PLM™ desktop software and software support service (1 year) | Optional |
| Threshing drums |   |
| Width [in. (m)] | 62 (1.56) |
| Diameter [in. (m)] | 29.5 (0.75) |
| Drum Concave |   |
| Area [sq.in. (m²)] | 1829 (1.18) |
| Wrap angle (degrees) | 111 |
| Beater |   |
| 4 paddles and 4 teeth rows (alternating) [in. (m)] | 18.75 (0.475) |
| Rotary Separator |   |
| Rotary Separator | Standard |
| Multi-Thresh™ system | Standard |
| Strawwalkers |   |
| Number | 6 |
| Opti-Speed™ variable strawwalker speed | Standard |
| Cleaning |   |
| Self-levelling cleaning shoe | Standard |
| Opti-Clean™ cleaning system*** | Standard |
| Cleaning fan |   |
| Opti-Fan™ system | Standard |
| Grain tank |   |
| Capacity with remote foldable covers [bu. (l)] | 326 (11,500) |
| Capacity with manual foldable extensions [bu. (l)] | 350 (12,300) |
| Engine* complaint with Tier 4 emission reguations |   |
| Engine* complaint with Tier 4 emission reguations | FPT Cursor 9* |
| ECOBlue™ SCR system (Selective Catalytic Reduction) | Standard |
| Gross engine power @ 2100 rpm - ISO 14396 - ECE R120 [kW/hp(CV)] | 265/360 |
| Maximum engine power @ 2000 rpm - ISO 14396 - ECE R120 [kW/hp(CV)] | 295/401 |
| Approved Biodiesel Blend | B20** |
| Fuel tanks Diesel / AdBlue capacity |   |
| Fuel tanks Diesel / AdBlue capacity [gal. (l)] | 265/32(1000 / 120) |
| Transmission type | 4-speed hydrostatic |
| Maximum speed standard / optional [mph. (kph)] | 19 / 25 (30 / 40) |
| Residue management |   |
| Integrated straw chopper | Standard |
| Chaff spreader | Optional |
| Dimensions with traction wheels (****) |   |
| Dimensions with traction wheels (****) | 900/60R32 |
| Wheelbase [ft. (m)] | 12'4" (3.76) |
| Maximum height in transport position [ft. (m)] | 13' (3.96) |
| Maximum width - transport [ft. (m)] | 12'9" (3.9) |
| Weight |   |
| Weight without hreader, chaff spreader and straw chopper [lbs (kg)] | 17,198 (7800) |