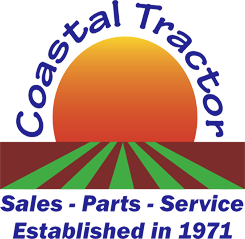 Specializing in farm equipment sales, parts, and service.
Bush Hog 326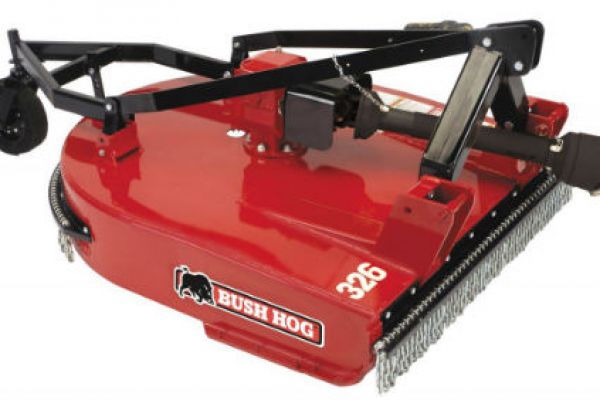 Double tap to zoom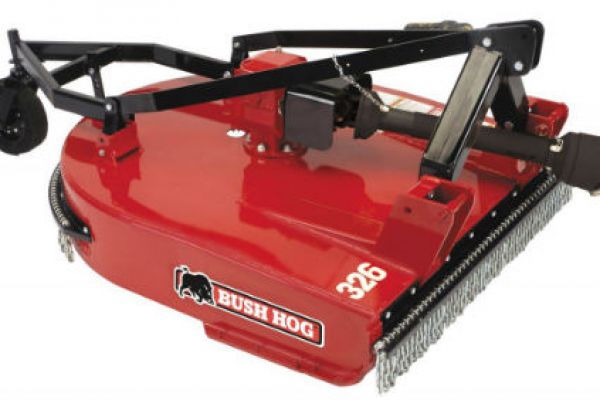 Features
Performance Features
Sloped Deck. Improved sloped deck design sheds water and debris to increase deck life.
326 and 327 gearboxes are the same rugged gearboxes used on the Bush Hog® flex wing cutters. Rated at 210 HP, they have the highest rating in their class.
Blade pans are 7-gauge steel formed in dished shape for extra strength.
An integral part of the cutter's structure, the gearbox stand runs between the strongbacks.
Rugged ASAE Cat 5 drivelines are standard on both 320 Series "Original Plus" cutters.
5-year limited gearbox warranty.
Replaceable Skids
Construction Features
Decks are reinforced with internal 7-gauge steel strongbacks that run the full length of the deck tying together the entire structure with the gearbox stand.
326 and 327 decks are 7-gauge thick steel. Strongbacks are 7-gauge steel.
Sidebands are strong and deep. Formed of 1/4-inch thick steel, they are 12 1/2-inches deep.
Heavy-duty tail wheel assemblies are standard on both models. 327 comes equipped with a heavy-duty axle and dual wheels for both lift and pull models. Both lift and pull models come with laminated tires that are built for rugged conditions.
Built of heat treated alloy steel, blades are genuine Bush Hog®

Product Features
TOUGH Category 5 Driveline
Authentic Bush Hog® Gearbox Look for the Bush Hog® embossed on the gearbox. Only Bush Hog® cutters are equipped with Bush Hog® designed gearboxes. The Bush Hog® 320 "Original Plus" Series heavy-duty cutters feature the highest rated gearboxes in their class—210 HP.
TOUGH Tail Wheel Assembly
TOUGH Blade Pans, Deck Reinforcements, and Heavy-Duty Gearbox Stand Equipped with Bush Hog® Blades
327 Lift Type Cushioned Axle
Specifications
| | |
| --- | --- |
| Model | 326 |
| Cutting Width | 6 feet |
| Cutting Capacity | 4 inch diameter |
| Cutting Height | 2 to 12 inches |
| Dimensions (width x length) | 6ft 6 inches x 9ft 8 inches |
| Type Hitch | HD 3 Point Cat. I, Cat. II Standard & Quick Hitch |
| Deck Thickness | 7 gauge |
| Sidebands | 1/4x 12 1/2 inches |
| Driveshaft | ASAE Category 5 |
| Gearbox | Heavy Duty 210 HP |
| Tractor PTO Speed | 540 RPM |
| Driveline Protection | Slip Clutch Standard |
| Blade Holder(s) | Round |
| Blades | 1/2 x 4 inch uplift |
| Blade Tip Speed | 13,996 FPM |
| Tires | Laminated |
| Minimum Tractor HP | 60 PTO |
| Safety Shielding | Single or Double Row of Chains |
| Approximate Weight | 1400 lbs |